Hi,
BeePi 1.1 is finally out and brings compatibility with the RPi4 while maintaining compatibility with the Rpi3.
Beepi :
https://mega.nz/file/x5VTxARD#PzXhrfPHT ... -OWNbRFvs0
Setup video :
https://youtu.be/fDw_zeEXrxI
What's new :
- Raspbian Buster light with Rpi4 compatibility
- Updated Hatari 2.2.1
- Updated Emutos 1.0. Emutos is the default Tos for Hatari
- Updated Mint 1.19-76b
- Updated softwares : Troll 1.8F, Litchi 1.3I, Vision 4.7b2, Kronos 2.03, shutdown ...
- Much less, but unfortunately still present, freeze at boot.
- Root account disabled.
- New ssh login : ssh pi@beepi
- Boot time is unfortunately a few seconds longer (Debian Buster constraint)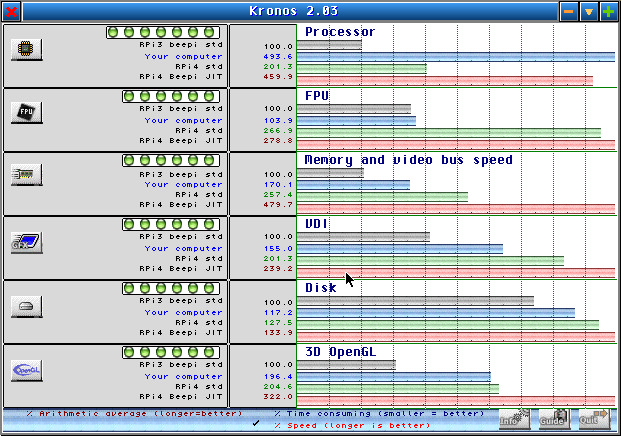 In the chart, Your Computer is BeePi RPi3 JIT
In term of performance for the Rpi4, Hatari is working flawlessly even with exact cycle parameters on and demos are much more fluid.
Aranym standard is showing a 2X boost which is consistent with web benchmarks, BUT, Aranym JIT CPU is 5% slower than the Rpi3, all the other benchmark items being 2 to 3x faster.
How is it possible ? Well, Aranym JIT compiler has been optimized for the Rpi3, not for the RPi4. This issue has been raised to Aranym group and I hope that a RPi4 optimized JIT version be done one day.
I let you analyze the comparison vs a Vampire board as the results are quite pleasing.